By:*Twisted*
Date Made:1-5-11
Rate:

Comment:Please Leave A Comment, I may Add More!

Please Don't Steal My Idea, Or The Picture... Or at least On here. This
MY idea not yours! Though I edited this from Squirrelflight.

---
Chapter 1.
Squirrel looked around quietly from her nest. Her small eyes reflected
off the trees. The wind past her tabby-flamed fur. Her mother's fur
lapped her ear gently. She turned to her mother's soft gaze and looked
enthusiastic. "What is that place mama?" she asked quietly. Her mother
followed her gaze. "Well, that's the place where 4 clans rest in peace,
or may be at battle." she replied.
"Oh... can I go there?" Squirrel asked.
"We'll see about that," chuckled her mother. "Get some rest now little one."
"Okay mother." sqeaked Squirrel and put her head down to snuggle beside her brother, Raven.
The dawn called out. The birds tweeting annoyingly. Squirrel blinked a
few times, she only felt her brother's warm fur against her. She lifted
her head, and looked around a few times. Her mother was nowhere in site,
and she was in stacks of hay. "Mother?" she mewed.
She shook her brother awake. "Raven wake up." she hissed and batted her
paw gently on his ear. He sprang up and looked around. "What is it?" he
hissed, licking a paw and running his ear over it a couple of times.
"It's mother," Squirrel quavered. "She's gone!"
"What?!" Raven's voice was shocked and so were his eyes. "Let's look around the barn for her." he suggested.
Squirrel nodded.
It was Sun-High, and the clouds were nice and warm. The two young cats
met again, only with worried looks on their faces. "S-She's gone." mewed
Squirrel sadly. "Everything we'll be okay I--" her brother started when
she burst out, "No! Everything's not okay, were without our mother!"
Raven was surprised by her ferociousness. He watched her fly off into the woods. "Squirrel! Wait!" he called after her.
As she ran, her paws started to ache, but she ignored it. She soon
stopped, panting restlessly. "Wh-What?" she called silently. Suddenly,
eyes appeared she looked around quickly but then they were gone. She
knew
she
was being watched. As she headed the way she came, a loud hiss came
from the other side and weight was put on her back. She yowled in
surprised and turned, clawing it's flank and batting the cat's muzzle.
It yowled in pain and that gave her time to pin the cat down with no
where to run. "Who are you?" she snarled. "I-I'm Wildpaw, I'm training
to be a Thunderclan apprentice." he mewed happily and pushed her off.
"Apprentice?" Squirrel asked. "What's that?"
"It's when all the young cats, at age 6 moons train to be a warrior." he mewed.
She listened to him talk about the warrior code. She nodded. "Cool,
mind if I jump in?" she asked. "I don't think Firestar won't mind." he
mewed and raced into the forest, following by Squirrel. "By the way
what's your name?" asked the clan cat. "I'm Squirrel." she replied.
May Be Continued......




Main Charcters:


Squirrel:
Wildpaw:
Raven: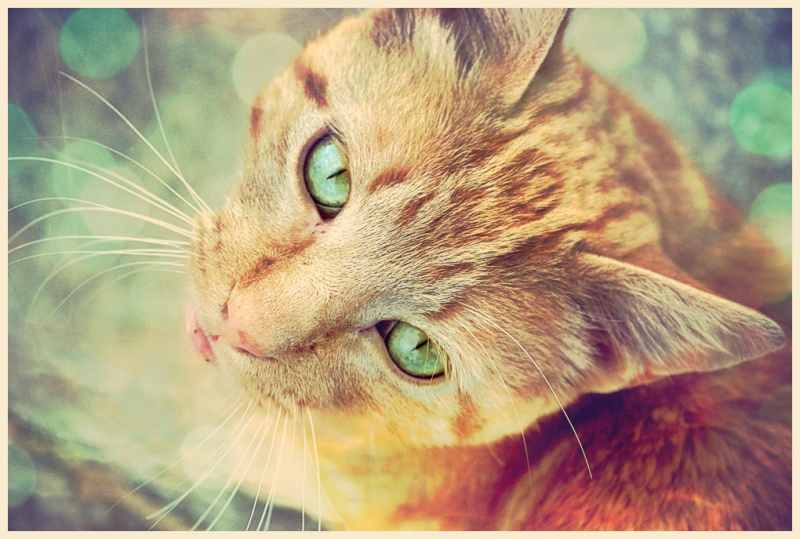 Last edited by *Twisted* on Mon May 02, 2011 7:50 pm; edited 1 time in total
Super Star Player





Posts

: 10753


Join date

: 2010-07-04


Location

: -- a place you'd never know



Super Star Player





Posts

: 10753


Join date

: 2010-07-04


Location

: -- a place you'd never know



5 STARS!!!! Continue it! Please!
Excellent Star Player





Posts

: 5830


Join date

: 2010-12-14


Location

: Following you, asking the chicken inside my coat if this is the one



Chapter 2.
As they got into the trees, Squirrel's eyes glinted with even more excited. Her heart raced as she saw a small cliff. She saw Wildpaw racing about quickly. She slowly slowed her pace as she realized they were going down. She saw him stop and look back at her. She realized her must have smelled her fear scent he looked at her and gave her a questioning look. She walked beside him, staring down the small cliff to see cat's. She shook her head and licked her chest fur a few times to hide her embarrassment. Wildpaw gave out a mrrow of amusement and put his tail on her shoulder. "Don't worry, it's easy to climb down." he murmured and started carefully. She followed his move and started down confidence building with every pawstep. She then followed him at heels with one last jump. "There, was that so bad?" Wildpaw teased. She rolled her eyes. "Shut your mouth furball." she hissed playfully. He flicked his tail and looked around with a glint of pride in his eyes. "This is camp." he announced. "This is the main place of every cat's territory." he mewed. A cat with striped tiger-like fur passed them. He stopped and looked from Wildpaw to Squirrel. The two cats exchanged glances.
"Greetings Wildpaw, who have you brought here?" he asked. "This is Squirrel." he mewed more respectively and bowed. He flicked his tail for her to do the same. She did the same, slowly bowing her head. She got back up straight watching this cat. "This is Brambleclaw, the deputy of Thunderclan." Wildpaw meowed.
"Where are you from?" demanded Brambleclaw. "You smell nothing of forest or Two-legs."
"I am from Twolegplace, but I don't live with twolegs." Squirrel mewed. "Me and my brother, Raven came in here after I lost my mother." Just after she said that, a voice yowled from them trees and two cats appeared spitting in fury at a young ginger-flamed cat. A white cat, made his way over to a den and disappeared. She looked at the two who seemed to exchange a glance. "Leave me alone mouse-brained fools!" he hissed. "I'm looking for my sister, Squirrel."
Immediately, Squirrel dashed over toward him. "Calm down, I'm right here." she mewed and presed her muzzle into his fur only to notice there was a scratch in his flank. She examined it then turned to him. "That's deep." she mewed with a tone of uneasiness. Just then the stripped deputy came beside them. "You can go see the medicine cat, Leafpool." he mewed. Leafpool poked her head out the den. "I'm over here." she meowed. Raven nodded and headed off, tail high when he disappeared, Squirrel turned to the deputy not even flinching. "Thank you so much for your help, my brother will be thankful." she mewed.

Squirrel lay with her head on her paws, waiting for a sign of flame-colored pelt tom of a leader. Brambleclaw insisted on asking him that they wanted to join. She sat there, kinda nervous and hopeful he would accept two cats from twolegplace. Her thoughts moved out of her mind as she saw him come out of the leaders den, his eyes moving right toward her. He trotted over to her smoothly and looked at her. "Greetings, so you want to join the clan?" he asked. Squirrel sat up straight to give him respect. "Yes, if your willing to make us apprentices, Firestar." she replied, her heart feeling as it can beat out of her chest any second. "Okay then, if your sure because Wildpaw said you defended yourself quite well as for your brother, Cloudtail was complaining a lot."
Squirrel heard of Firestar's kin, the white warrior who did not believe in the Clan cats who went after death, Starclan. She thought she had believed as for a kit she had always dreamed of starry cats that went in her reflection murmuring prophecies to her, ones she never understood.
"You two will be made apprentices at Sun-High." he mewed reassuringly. At once, he turned and padded away. Feeling excitement flood through her, she at once raced to the medicine cat's den. She looked through the light that gave away and saw the body of her brother's curled up on moss. "He's sleep..." Leafpool's voice sounded behind her. She whipped around. "Let him rest."

Squirrel and Raven stood under the high-ledge waiting for Firestar to give them the official acceptance in. She flicked her tail, starting to get impatient and her muscles started to tense. A body pressed up against her, and a purr rose from her throat as she saw the grey apprentice's face. She let in his warm scent, and tried to keep herself patient. At last, the flame-colored tom sprang on the High-Ledge and yowled, "All cats old enough to catch their own prey gather here beneath the High-Ledge!" At once, all the cats gathered round. When the murmuring started Firestar flicked his tail in silence. "We have visitors who are becoming apprentices. They have already shown their loyalty and are already showing they can defend themselves." he mewed. Squirrel's heart quickened she and her brother sprang on the High-Ledge "This is a proud day for Thunderclan by naming apprentices we show Thunderclan will survive and remain strong. From now on until you receive your warrior names, you will be known as Squirrelpaw and Ravenpaw." he took a deep breath then continued. "Squirrelflight, you are ready for another apprentice, you will be Ravepaw's mentor. I know that you will pass on your confidence and hard-work to Ravenpaw and teach him the skills that make him a brave warrior of Thunderclan." he mewed. He looked around confusingly and Squirrelpaw urged him to go over and touch noses with his mentor. At once, he raced over and did as told. He turned to face Sorreltail. "Sorreltail, you are ready for another apprentice you will be Squirrelpaw's mentor . I know you will pass on your swiftness and stamina to Sqirrelpaw and teach her the skills that make her a brave warrior of Thunderclan." Almost at once, she dashed over and touched noses with her new mentor.
"Squirrelpaw! Ravenpaw! Squirrelpaw! Ravenpaw!" The yowls of their new names sounded and Squirrelpaw couldn't believe it: She was an apprentice! And a true clan cat now!

Last edited by *Twisted* on Mon May 02, 2011 7:39 pm; edited 2 times in total
Super Star Player





Posts

: 10753


Join date

: 2010-07-04


Location

: -- a place you'd never know



Super Star Player





Posts

: 10753


Join date

: 2010-07-04


Location

: -- a place you'd never know




---
Permissions in this forum:
You
cannot
reply to topics in this forum