Name: Wahya Goshe (pronounced: Wah-yah, go-shay)
Name Meaning: Wolf dog
Gender: Female
Race: Half-breed wolf dog
Sub-Race: N/A
Breed: Grey wolf x German Shepard mix
Age: 4 years of age
Pack: N/A
Rank: N/A
Magic: N/A
Spells: N/A
Appearance: I am very short for my breed, with small paws and canine-like teeth. My base coat is mouse grey, and my eyes are wolf yellow. My muzzle is a milk chocolate brown, the marks end near my eyes. My underside is a very light grey that starts at the bottom of my chest, and cascades to for the tip of my tail. Covering the very tip of my tail is the same, chocolate brown color. My back has the same brown laid in a German Shepard pattern. On my left back leg, I have the chocolate brown covering my foot until halfway below the knee. The toes on the same foot are a dark grey color. On my back right leg the same markings occur, only reversed. On my front, left leg the brown color covers my leg until slightly below the shoulder. There is a black marking ending diagonally below my due claw, this also covers my toes. On the right, front leg the same markings occur, only reversed and with a dark grey color instead of black. My ears are large and bat-like, with a light grey hair surrounding, and dark grey int he middle of the ear.
Skills: I am swift like an eagle. And cunning like a fox. I can navigate through the largest forests, and take down large prey. I can't follow scent trails the way other wolves do.
Personality: "Sweet and Sassy," thats all the guys say. I am actually the most shy wolf around. I cannot anger easily, therefore to replace anger, I use my cunning mind. I still can't outrun my prey, but if I catch it, it goes down kicking. Thanks to my short, stout legs, I can't run as fast as the other grey wolves. My teeth are not as sharp as another wolf's are, so I cannot do as much damage as they can.I normally like to keep to myself, but when I spot a large male, I try to High-tail it out from where I am. i normally can't get away fast enough so I turn on the charm.
Biography: My mother, being the sly wolf that she is, found a stray German Shepard and courted with him. I never actually met my father, but I've heard good things. My life was very happy, and I grew up strong. I always stood out among my siblings, constantly playing and having fun. When the first hunting lesson came around, our prey was a jackrabbit. I was far behind in my pack and had been separated. I couldn't ever find them, for I bumped my nose at birth and I can't smell too well. After that, I became a wandering loner, looking for a sweet and kind male to replace the hole in my heart.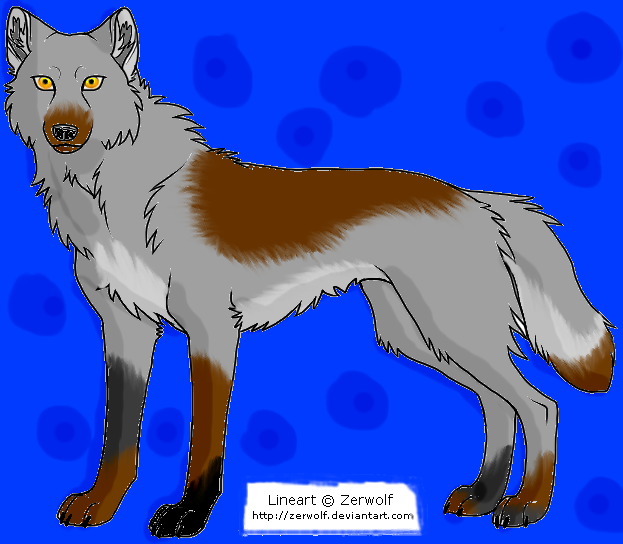 Sry Guys I know the shading is really crappy but I wanted to do something really quickly ( I used lineart, but the rest is me)


Similar topics
---
Permissions in this forum:
You
cannot
reply to topics in this forum