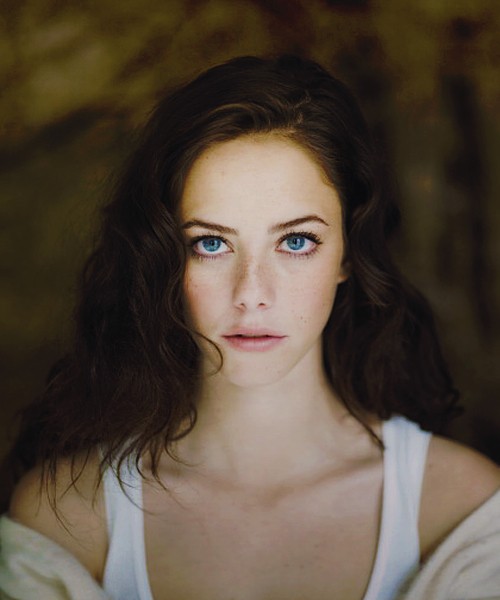 "Do you want me to kill you, Abigail?"
The answer was perched on her tongue, mouth agape for her to speak, but she couldn't quite make out the noise with a hand around her throat.
"Look at me!"
She choked on a sob and swallowed hard, scrambling to summon up enough courage to do as he ordered. Her lips pressed together in a hard line before her eyelids peeled open to reveal the sight of Neil kneeling over her, eyes narrowed and jaw clenched, with his grip tightening around her throat.
"Answer my fucking question, Abigail." The words rolled from his tongue quietly; almost too quietly for how dangerously they were spoken.
Her hands flew up to try to pry his hands from her neck, but her attempts turned out to be futile, shaking her head to the best of her ability as a signal of her answer. Remaining poised above her for a second more before standing, he gave a humorless chuckle.
"Fucking worthless," he muttered beneath his breath and pointed a finger at Abigail. "Do you realize how lucky you are to have me? Nobody will ever love you. I'm all you've got, and this is how you repay me?"
A moment of silence passed.
He reached out and hoisted up the woman by her shirt, her head turning to face away from him, and his voice dropped as he brought his face mere inches from hers. "You make me fucking sick, you ungrateful bitch. You don't deserve me -- fuck, you don't deserve anything, but you think you do. Actually -- see this?" His finger jabbed into the purple, bruised skin around her eye, and she winced. "
That's
what you deserve, Abigail." He narrowed his eyes. "Did you even take your pills this morning?"
"Yes," she murmured, voice raspy. Neil grunted, released her shirt. Abigail took a second to stabilize herself before she caught of glimpse of Neil's backside stalking down the hallway.
"You should know better than to lie to me," came his voice, and a sheet of icy terror acted as a tight cloak around her. Somewhere over the mess of thoughts cluttering her mind, she could hear him sift around the closet, and one thought screamed above the rest.
He's getting the belt, he's getting the belt, he's getting the belt,
chanted her mind, over, and over, and over again. It was then that she sprinted out of the house, her mind almost absent while her legs seemed to move on their own initiative. The door slammed closed behind her, but she hardly cared; the thought overrode her common sense, so much so she had forgotten to grab her car keys or shoes.
It'd been 3 years since she'd said "I do" -- 3 years of skirting around explaining bruises, split lips, and why she'd never seemed to smile anymore. Honestly, she felt it to be more effort than it was worth. Who'd cared, anyway? If her family had pressured her so much into marrying this man, they must've felt she was meant to have him... right? Her mind drifted back to the time before they'd gotten married, when Neil had just been, in her mother's words, "one hell-of-a-guy", and Abby believed he couldn't get any better even if someone slapped a cherry on his head. At that time, Abby would've laughed at the idea of Neil laying an ill hand on her. But a few days after the wedding, she messed up. She didn't know what she did, but Neil's hand smacking across her face was enough to make her apologize and swear she'd never do it again. Yet she did. The beatings progressively worsened, from a swollen cheek to a broken nose, from a smack to a choke. She wondered what she had been doing wrong, and she eventually asked him.
He raised a brow to her question, his hand that had been halfway drawn back to strike halting. "Abby," he began, a stone cold expression settling over his face as he continued, "Don't ask stupid questions. You know why I do this." Calculating eyes studied the woman's shaking form a moment longer before his voice picked back up again. "But, since I guess you need a reminder. I do this because I
can
." That night while she laid in bed, her mind was on a constant relay of those words, hectic to decipher their meaning and how she could possibly make things okay again. She turned her head to shift her gaze to Neil, who was swept off into a deep sleep. Chewing at the inside of her cheek, she turned back for her eyes to lock onto the ceiling the moment before the heels of her hands rested against them. She cried quietly. She was at loss.
Feeling her mind begin to replay what had just happened, she forced herself to focus on the repetitive thud of her feet smacking against the sidewalk.
You do deserve it, Abby. Just a burden.
Tears began to well up in her eyes, only to quickly shut them and shake her head.
Don't you fucking cry.
Suddenly, she slammed into what felt like a brick wall, causing her to stumble and land on her back, and, after her mind registered what had just happened, she saw a man. Eyes wide, she blurted, "I'm sorry, I'm sorry." She hastened to her feet and felt her heart pounding against her chest, wary to keep her head pulled down so her hair fell down as a curtain for her face.
[Hopefully this is all right. c:]
Last edited by JunKy on Sun Oct 19, 2014 11:23 pm; edited 1 time in total
Let's just say, Oakley as having a very bad day for very numerous reasons. All day he had so many stupid calls to the station, hell, a two year old called and mumbled on the phone. Of course, he had to respond to them because they were still calls to a emergency station but all he got was apologies and was sent away. The best part of the day was probably just hanging out in his station throwing a tennis ball for his K9 pal, Anubis. The shepherd loved, loved,
loved
to play fetch. Especially when Oakley was busy and didn't have time to play. Today was one of the dog's lucky days though, Oak wasn't busy and could play fetch as long as possible. So as they played, the ball going back and forth, Oakley quickly lost all track of time. Soon he heard the doors opening multiple times, then he looked quickly to the clock. 5:00, shift change. With a exasperated, "Shit!", he quickly gathered moved all his stuff to its usual corner then placed his pistol back in its spot on his belt, grabbed his keys then ran out of the office with Anubis following closely behind.
While they loaded into the patrol car that Oakley had the privilege to take home, the dog leapt into his normal seat in the back and Oakley just the door which closed him in. Then he sat in the drivers side and let the engine roar to life, then he took a few deep breaths before pulling out of the parking lot and driving home. His house was on the nicer end of the home scale, not a mansion, but still rather nice looking on both the inside and out. To him it was almost a pity to have it only him and Anubis living there, but hey, what could he do other than wait. So as he parked in his garage he sighed, letting Anubis out to let the shepherd bolt into the house. Chuckling at the dog he followed him, starting some lasagna in the oven that would take about an hour. But with a lucky glance out his window, he saw a woman running down the sidewalk. At least he had taken his jacket off and was only in a black t-shirt so he wouldn't intimidate her. So he ran outside, leaving the dog inside, but as he did he felt her ram right into him. As he was about to kneel down to her and speak he got back up, so he stayed put then gently touched her shoulder in a innocent gesture. Then seeing her black eye, he looked around then said, "Ma'am, are you okay? Do you need to come inside for a little bit?" With his childhood, he was very protective of women and nurturing when he saw them in pain or hurt. So as he awaited her answer his eyes tried to find hers as his were full of worry. Even though she was a absolute stranger.
When the man touched her shoulder, Abigail instinctively jerked back and folded her arms, eyes still glued to the ground. "I- I, uh," she stuttered. "I- just. I dunno. I'm..." Abigail let a moment of silence slip by as she attempted to regain her breath and slow her erratic pulse enough so she wouldn't have a panic attack. "I'm sorry. I wasn't watching where I was going." She gave a shaky shrug to her shoulders. "I just..." Realizing she was rambling, she promptly shut her mouth, shaking her head - it'd taken her a second to comprehend what he had asked, and what she had failed to answer. She mulled over a response. "Yeah, please," she nearly whispered, glancing up at the man.
When the woman jerked her arm away, Oakley quickly moved his hand off of her just in case she was hurt and that had hurt her. Giving her a bit of a worried look as he always seemed to be worried for people, he waited patiently as she seemed to be having a problem getting her words out. But once she did, he extended a strong arm to guide her towards his house while being careful not to touch her in case that was part of her problem. Though he looked around to make sure no one was chasing the woman. She had been running, from what though?
((Have to put them Damon gifs xD))
Abigail

Allowing the man to guide her, she cast a few glances to her surroundings, expecting her husband to come hurtling towards her with a belt in hand and anger drenching his expression. Yet, much to her relief, he hadn't seemed to be anywhere near. Her gaze wandered to the man for a moment, and her expression fixed into something akin to a cautious curiosity. Abigail wasn't used to this level of kindness from anybody -- hell, she couldn't even recall the last time she had an actual, safe conversation with someone. In her mind, it was unusual... but nice.
Watching the woman look around like she was checking to make sure the Big Bad Wolf wasn't going to jump out and eat her, Oakley just kept a keen eye out so if someone did come. He was ready. Holding the door open for her to enter his home, he heard Anubis clattering to the door so he whistled and pointed down. The shepherd immediately sat down and awaited patiently for them to come into the house. Once inside though, Oakley closed the door quietly then spoke, "Okay miss, I need to know three things. One, are you running from something? Two, if so, who? And three, are you injured?" His officer side was showing now, asking the questions he would have to on a normal occasion but for once getting to look right into someones eyes and know if they were lying or not. Then he added, "Please don't lie to me either."
The sound of claws clattering against the floor brought Abigail to attention, shoulders tensed. It hadn't been long before she realized it was a dog, and she blew out a sigh, though her shoulders still remained risen and her arms crossed. When the man spoke, she cast a glance at him between the layers of her hair. Her mouth felt suddenly dry. "I, um... yeah. I'm running." A moment of hesitancy skipped across her mind before she tucked a bunch of tangled hair behind her ear with a shaky hand, revealing the bruises that ran down from her eye, to her cheekbone, and down her jaw. She gestured a finger to them. Her eyes refused to meet his. "My, ah, husband."


Similar topics
---
Permissions in this forum:
You
cannot
reply to topics in this forum