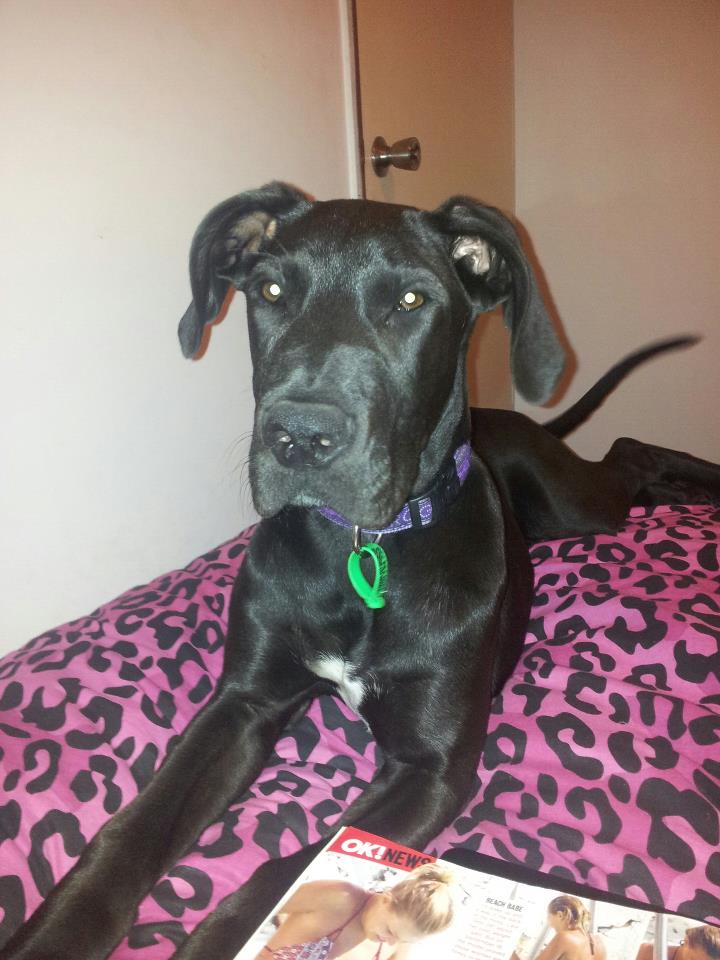 Okay, so, the picture is of my Great Dane puppy, Mercadies. She is 5 months old on Sunday and we heard it's common for a dog to come to their first heat at around 6 months. Granted, I know it's not going to be this or next month, but i'm just asking in advance.. Well, i'm a litle worried when Mercadies goes into heat, as my next door neighbour has two undesexed males who are a few months older then her. Well one is, the other is a year or something or other.
I'm worried about them digging a hole and getting under and well, you know, mate with her. We already have a few holes along the enceline from my 3 dogs and his 3 dogs digging, so we've been trying to block them. So it'd be easier for them to get through.
Granted, his dogs are not registered, so we could call the pound and get them taken away. They're all well trained dogs who would find an owner, unless he has used them for hunting of something(we don't live in country we live in suburbia, but he's always leaving with them)
My dad wants to call the pound if it's going to be a problem but I want to find an easier solution; though maybe it would be better on the dogs as he abuse them from time to time. Not sure if he does it all the time.
But anyway, I was just wondering what I should do... Suggestions?
Excellent Player





Posts

: 1671


Join date

: 2011-09-20


Age

: 22


Location

: Bottom of the sea with my Dinglehopper



How adorable! My friend has a great dane around her age, named Palmer. I'm getting off topic here, so I'll try my best. The first thing, you could get her fixed, but seeing as you asked this, I'm guessing that isnt an option at the moment. Seeing as he abuses his dogs, he doesn't seem like the type you would want to ask to tie them up or neuter them,.... I can't see many ways around this, your dad's idea is the best one so far, but I'll tell you if I think of another idea, other than completely humiliating her by making her wear some form of pants.
Excellent Star Player





Posts

: 5830


Join date

: 2010-12-14


Location

: Following you, asking the chicken inside my coat if this is the one



That's a tough one, dogs are smart, and when it came to my dog we had to reinforce the fence, especially the weak spots he knew and tore at, we had to heighten it where we have bushes and he could climb it and we had to heighten the gate panels too since apparently that 40kg of a dog could jump 1.2 meters, and dig sticks into the ground where he tore at the base of the fence. Luckily we have concrete surrounding the garden which is the most helpful thing against dogging under the fence, either that or boulders. I don't think calling on his dogs would be the best thing to do, and not because it's an un-neighborly thing to do (that's your relations with him, not my business) but simply because he could get other dogs, and registered dogs at that so... Anyways I hope this helps a bit, good luck!
_________________
Admin





Posts

: 612


Join date

: 2011-06-23


Age

: 28


Location

: VoM Khorinis upper Qrt. 12



Hi! Well, my friend has a Saint Bernard Puppy, and she was worried about pretty much the same thing. Like Harley said, you could buy some sort of 'pants' for her. The same friend bought her dog some "Doggy Panties" off the internet to help keep away from the mess of heat and to protect her dog from unwanted visitors. If that doesn't seem possible, I would recommend your father's idea.

---
Permissions in this forum:
You
cannot
reply to topics in this forum