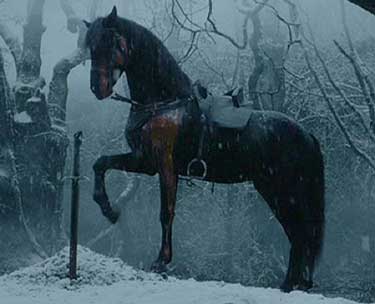 Name:
Aragon
Age:
8
Gender:
Stallion
Breed:
Andalusian
Height:
16.2HH
Occupation:
Assassin's Horse
Personality:
Sullen, quiet and serious, Aragon is the type to finish his job no matter what. He will choose his mission over anything and everything else. Except his owner and rider, Leonardo. He's the most loyal horse one would meet. No one except Leonardo can ride or handle him. With anyone else, this black andalusian stallion is wild and untrainable. He's stubborn and tempermental without Leo and uncontrollable.
History:
Aragon nearly died when he was born as his dam died in a back paddock and nobody knew she was going to give birth that week. They thought she wasn't due for another two weeks, actually, so they didn't bother with her. However, Leonardo, who came to see his dam once a week, came to check on her, but she didn't come. He came searching through the paddock to see Aragon's dam, Macey, dead, a nearly dead black colt lying only a couple metres from her. Leonardo, no matter how sad he was, left Macey there and took the foal back to his place and nursed the colt back to health, naming him Aragon. The colt soon enough, became a strong young colt, running everywhere. From the age of one, Leonardo started working with him. By the age of 2 1/2, Leonardo was using the colt in his long travels for assassinations. They were barely ever seperated, and if they were, Aragon became a tempermental stallion. Even to this day. They are barely ever seperated anymore and Aragon will never leave his master and friend's side is he can help it.
Plot:
Leonardo takes Aragon on an assassination attempt for a man (your character) where he is killed and Aragon seriously injured (refer to picture

) The man had seen how great a horse Aragon was and decided to try and tame him for himself.
Later, you can bring in a mare if you wish, because i'll be bringing in a female assassin to try and kill him. Instead, somehow it turns around and they are both on the run together.
It could lead to alot of things. I'm really hoping for this RP
Excellent Player





Posts

: 1671


Join date

: 2011-09-20


Age

: 21


Location

: Bottom of the sea with my Dinglehopper



Mind if I join? Looks extremely interesting.
Advanced Star Player





Posts

: 8213


Join date

: 2010-05-15


Age

: 19


Location

: A Purple Dingo Ate My Baby!!!!!!!!!! O.o



Excellent Player





Posts

: 1671


Join date

: 2011-09-20


Age

: 21


Location

: Bottom of the sea with my Dinglehopper



Advanced Star Player





Posts

: 8213


Join date

: 2010-05-15


Age

: 19


Location

: A Purple Dingo Ate My Baby!!!!!!!!!! O.o



Okie dokie

Excellent Player





Posts

: 1671


Join date

: 2011-09-20


Age

: 21


Location

: Bottom of the sea with my Dinglehopper




---
Permissions in this forum:
You
cannot
reply to topics in this forum